Posted by Amy Kittel
on April 15th, 2014 filed in
Katie Ganshert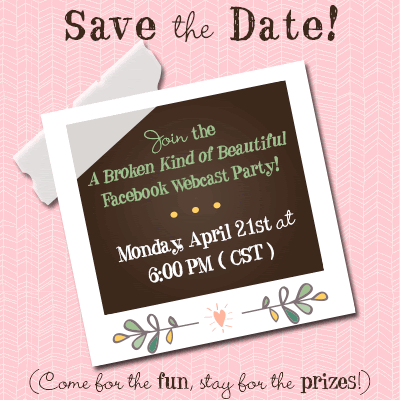 With a Facebook webcast party on Monday, April 21st at 6 pm, CST! There will be lots of prizes, a fun chat room where party attenders can interact, two author guests, and did I mention prizes? The best part? You can participate from the comfort of your very own home. You can even wear your pj's if you want. Nobody will know. I'd love it if you'd hop on over and RSPV. Please feel free to share the invite with friends! The more the merrier.
There will also be an in-person celebration on Saturday, April 26th from 1-3 pm at Books-A-Million in Davenport. If you live nearby, I would love to see you there! There will be free truffles and lots of hugs.
-Katie Ganshert
Thank you Katie!
Katie can also be found on Twitter sharing about writing and life with her family.
A Broken Kind of Beautiful Came out yesterday. You can find it on shelves at your local brick and mortar, Amazon and B&N
~~~~~~~~~~~~~~~~~~~~~~~~~~~~~~~~~~~~~~~~~~~~~~~~~~~~~~~~
Sometimes everything you ever learned about yourself is wrong.
Fashion is a fickle industry, a frightening fact for twenty-four year old model Ivy Clark. Ten years in and she's learned a sacred truth—appearance is everything. Nobody cares about her broken past as long as she looks beautiful for the camera. This is the only life Ivy knows—so when it starts to unravel, she'll do anything to hold on. Even if that means moving to the quaint island town of Greenbrier, South Carolina, to be the new face of her stepmother's bridal wear line—an irony too rich for words, since Ivy is far from the pure bride in white. 
 
If only her tenuous future didn't rest in the hands of Davis Knight, her mysterious new photographer. Not only did he walk away from the kind of success Ivy longs for to work maintenance at a local church, he treats her differently than any man ever has. Somehow, Davis sees through the façade she works so hard to maintain. He, along with a cast of other characters, challenges everything Ivy has come to believe about beauty and worth. Is it possible that God sees her—a woman stained and broken by the world—yet wants her still?